I can't believe it's the last day of February already! The month seemed to pass by me in the blink of an eye. I apologize for the shortage of posts this month but between classes, interning and performing there was little time for me to blog. I hope to be a lot more active come March and I'm also determined to finally put up my 100 followers giveaway! I've also been thinking about a name change for my blog to make it a little bit more personal; my top choice at the moment is Ellehearts92. Let me know what you guys think, yay or nay to the blog name change?
Anyways, lets get on with my February Favorites, which of course I created once again using Polyvore. So if you're a Polyvore user like me, then be sure to follow me there as well!
1. Chanel Rouge Allure Luminous Intense Lip Colour in Secreté ($38) - I hauled this in my recent Barneys New York Haul and even though it's only been a little over a week since I've purchased it, I already know I'm going to be using it well into Spring and Summer. The color is a beautiful mauve-pink and is very moisturizing and highly pigmented. It lasts for a long time and it seems to leave a staining effect on my lips so even if you lose the satin finish, the color still stays.
2. Bobbi Brown EXTRA Eye Repair Cream ($69) - I also hauled this in my recent Barneys New York Haul and even though it is extremely pricey, it is worth every penny. This eye cream is very rich and moisturizing and a little bit goes a long way. It has a much thicker consistency than most eye creams I've tried but it really works to hydrate your eyes and it has an added bonus of priming your eyes for any concealer you may put on.
3. First Aid Beauty Daily Face Cream ($20) - I bought this a while ago when I was picking up things for my Florida trip in January with my boyfriend. I remember Lindsey, or Beautybaby44 on YT, mentioning that she likes to use it as a day cream as part of her skincare regimen for oily/acne prone skin so I wanted to give it a try since I was dealing with some pretty bad breakouts at the time. So far I'm really liking it, it's hydrating without being too heavy or oily feeling. I can't say that it does anything in terms of oil or shine control but at least it's not breaking me out and my skin has started to come under more control.
4. NYX Cosmetics Powder Blush in Angel ($6) - I bought this off of Hautelook a while ago when they were having a NYX sale and it came in a three-pack of blushes. I've been reaching for this one in the shade Angel a lot lately because it's a very light pink that gives you a very subtle glow. I think it's great for the winter time when my skin doesn't have a lot of color because darker blush shades can be too harsh and clown looking on me.
5. Almay Eraser Sticks ($4.89) - I've had these babies for a long time and I've only just gotten down to my last three. These are basically q-tips with makeup remover inside so you can fix any mistakes on the go. You snap off one end of the q-tip and allow the remover to seep into the other end, remove your makeup, and you're done! They're extremely convenient and way more sanitary than any reusable makeup eraser sticks in my opinion.
I hope you enjoyed this favorites post and found some of these products interesting. Remember to follow me on Twitter and Instagram for more updates!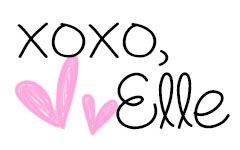 P.S. Don't forget! What do you think about a name change to Ellehearts92?