With a new month comes a new monthly wish list and this time I've got my eyes on a lot of great goodies. Spring is right around the corner and I figure its time for me to start stocking up for the warmer weather to come. I've been really into pastels, especially pinks, and lots of shimmer!
1.
Benefit Fine One One ($30)
- I've been hearing about this product
everywhere
! It's a cream stick with three different shades; a pink champagne highlight on top, a sheer watermelon blush in the middle and a soft coral blush on the bottom. You're supposed to swipe it on the apples of your cheeks, blend with your fingers and it'll give you an instant pop of color. I'm a little bit on the fence about this because I can't imagine everyone's cheek size to be the same and I think I might get bored of the same color combinations but it seems very travel-friendly and it might be worth giving it a shot.
2.
Too Faced Boudoir Eyes ($36)
- So this isn't exactly a palette of spring shades but the sexy sultry shadows were too beautiful to resist. I've been trying to experiment with darker shades lately and I think these shades might work very well with my complexion and monolids. They're dark but not too dark and I'm a sucker for purples.
3.
LORAC 3D Liquid Lustre in Diamond ($16)
- It's a shimmery liquid that you use to put on top of your eyeshadow to give it more sparkle and I've been looking for a way to get very shimmery lids. Enough said.
4.
Essie Nail Polish in Lovie Dovie ($5.10)
- I want some new pink polishes for the spring and I saw this on Heart, or
ThatsHeart
on YT, and it looked so cute. If anybody has anymore spring polish shades to recommend, be sure to leave it in a comment below!
5.
YSL Glossy Stain in Rose Vinyl ($34)
- I've always been intrigued about these YSL Glossy Stains and I think it's about time I finally give one a try. I was thinking about trying out a rose pink shade but if anybody has any other shades to recommend, please do.
6.
Tarte EmphasEYES Inner Rim Brightener ($19)
- While I do really want this product, since I don't have any shades to brighten up my inner rim, I'm not sure if it's worth $19. I'm thinking I can find a drugstore dupe for it but my eyes tend to tear a lot during the day and I'm afraid a drugstore brand won't hold up and I don't like touching up my makeup too much.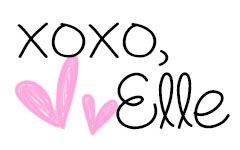 P.S. I've changed my Instagram handle to Ellehearts92, so don't be confused! I'm slowly making the name change.